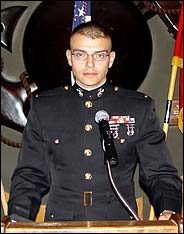 On February 11, an item was posted here regarding a Marine 2 Lt. who has been charged with murder following the killing of two enemy fighters in Iraq. Since that time two things have happened.


First, a Marine Corps sergeant has disputed Lt. Ilario Pantano's version of what happened, and a Navy officer more or less confirms Lt. Pantano's statement.


And second, the Marine Corps seems confused as to whether or not Lt. Pantano has been charged with a crime.


The Marine Corps initially announced that Lt. Pantano faced unspecified charges in the shooting deaths. Lt. Pantano's civilian attorney, Charles Gittins, told reporters his client faced two murder charges. Later, however, Marine spokesman Maj. Matt Morgan, at Camp Lejeune, N.C., where Lt. Pantano is based, said the officer had not been charged.
I continue to maintain that when enemy fighters are killed in circumstances where American troops are in danger of being injured or killed, that's just too bad for the enemy fighters.

It is supremely unfair to put our troops in harms way, and then second-guess their actions under such circumstances.

The New York Times reports "Lieutenant Pantano, 33, was born and raised in the Hell's Kitchen section of Manhattan, his mother, Merry Pantano, said. A graduate of the Horace Mann School in the Bronx and New York University, he first enlisted in the Marines when he was 17. He is a former energy trader for Goldman Sachs in New York, said Ms. Pantano, a literary agent in Manhattan who said her son also worked in television and film production before rejoining the Marines after Sept. 11, 2001."

And now Lt. Pantano, who voluntarily went back into the Marine Corps because of the 9-11attacks, stands accused of murdering the enemy by the country he so bravely fought for.